August 25th, 2013 | Author: Jules4110
Category:
Uncategorized
Labor Day weekend is shaping up to be bicycle friendly in a big way.  Whether you'll be attending the first Husker football game in Lincoln, or the Nebraska State Fair in Grand Island, you'll find volunteers ready to park and watch over your bike while you are enjoying the event.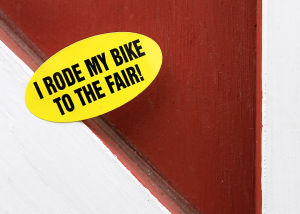 The State Fair's "Bike Barn" was the first to jump on board.  The State Fair moved from Lincoln to Grand Island a few years back, and the event began offering bike valet services in its second year.  The Bike Barn is open from 9am -8pm daily during the fair.  Grand Island is actually very bicycle friendly as a whole, with flat as a pancake terrain and dedicated bike routes that have been in place and signed for years.  The city also has a nice trail that, conveniently, will lead you right to the fair grounds.  You can learn more about the Bike Barn HERE.
Headed to the first Husker game next weekend?  Take your bikes!  UNL's Bike Shop will be offering free bicycle valet as well, opening 2
hours before kickoff and closing up 1 hour after the game ends.   Lincoln's trail system lends itself to a park & ride:  take advantage of free parking elsewhere in the city and then ride into the stadium from there.  Anyone who has been stuck in traffic gridlock after a Husker game has certainly daydreamed about effortlessly cruising past the cars on a bicycle!  You can find suggested routes and info about the valet services HERE.
Of course, offering bicycle valet at events makes life much easier for cyclists; however, perhaps the bigger win is for active transportation in general.  As we have experienced with Bike to the  Ballpark at the College World Series, these services raise the awareness about bicycling for transportation among citizens that may not have thought about it before.  The idea of avoiding gridlock or parking fees will surely spur people to dig out and dust off their bikes for the first time in years, and hopefully the experience will then lead to thinking about other trips that could be taken via bicycle rather than car.   It also serves as a powerful visual for decision makers: these seemingly small efforts will give decision makers a good opportunity to see bikes in action on their local streets and hopefully understand why encouraging more people to utilize active transportation will benefit their city.  Lincoln's N Street cycletrack proponents surely will benefit from the outcomes of the bike valet services at home games.
Please support these efforts if you can.  It won't be long before we can begin stitching all of these little efforts into a bigger, statewide network!